Premium Cardiology and General Imaging Ultrasound System
EPIQ CVX
Brand : Philips
Features our most powerful architecture ever applied to ultrasound imaging - touching all aspects of acoustic acquisition and processing, allowing you to truly experience ultrasound's evolution to a more definitive modality.
 Exceptional imaging with the OLED monitor & TrueVue realistic light rendering
 Improved exam efficiencies with configurable Ul and real time image alignment in 3D
 New robust & reproducible AIUS quantification on a wider range of patients with Dynamic Heart Model
 AutoSTRAIN, powered by advanced automation technology, provides fast and reproducible left ventricle global longitudinal strain (GLS) measurement for everyday clinical use
View Details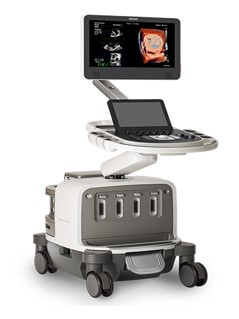 EPIQ ELITE
Brand : Philips
Philips EPIQ Elite ultrasound features an exceptional level of clinical performance, workflow, and advanced intelligence to meet the challenges of today's most demanding practices. The EPIQ Elite platform brings ultimate solutions to ultrasound, with clinically tailored tools designed to elevate diagnostic confidence to new levels.
 NEW "24" HD MAX Display for the ultimate ultrasound visualization experience
 NEW PureWave and xMATRIX transducers with leading-edge technology
 nSIGHT Imaging is a totally different approach to ultrasound
 XRES Pro next generation imaging processing
 Shear Wave elastography simplifies liver disease assessment
 Micro Flow imaging for remarkable detail in accessing blood flow
View Details